SIERA partners conducted a technical meeting in Paris (21/9/2012) , the meeting was dedicated to "TPM – Extending Michael thesaurus with Arabic – Building the Bethlehem thesaurus".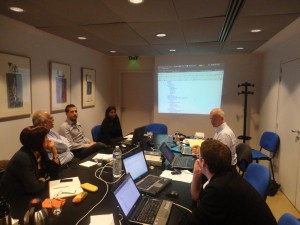 Where several issues related to extending Michael with Arabic were discussed , such as how to extend Michael's functionality to allow searching in Arabic , how to extend Michael with some content from Bethlehem and how to extend Michael's Thesaurus with Arabic. Regarding these issues, practical training on : TMP multilingual Management Platform including thesaurus import and SKOSfication ,localization and building was applied. Such practical training will provide the partners with the knowledge and skills needed to achieve goals such as reporting and specifying the missing Arabic searching tools and APIs and integrate them with Michael engine, enriching Michael with an experimental sample of 1000 objects related to Arabic culture through Bethlehem thesaurus and building an Arabic extension for Michael and extending Michael multilingual thesaurus with Arabic concepts which will enable multilingual support.
It was agreed that Bethlehem treasures must be defined in SKOS using TMP , also Michael thesaurus should be imported into TMP, connecting Bethlehem SKOS with Michael using TMP, and define Arabic search and query processing tools to be imported into Michael search functionalities which is based on Apache Lucene/Solr an open source enterprise search platform.
The meeting was attended by Christophe Roche (CLUNL), Rute Costa(CLUNL), Marie-Véronique (Michael), Florent André(TMP) , Stefano Bortoli (TN) , Adnan Yahya (BZU), and Ali Salhi (BZU).
Also SIERA partners attended a workshop a day earlier (20/9/2012) in Paris , the workshop was dedicated to the terminology management platform (TMP) – a part of FP7 Linked Heritage project.