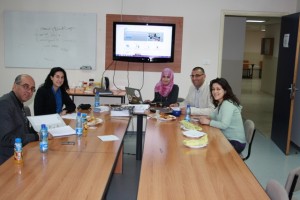 The Tempus Project Officer Eva Casnaova from Brussels, and Dr Nidal Jayoussi, the Tempus national contact point have visited the Palestinian e-Government academy for project monitoring.
Dr. Mustafa Jarrar mentioned the most important outputs and achievements of the academy in the previous period and its' future strategies and goals, Dr. Jarrar also clarified how the general sector and the stakeholders such as the General Personal Council and the Ministry of Telecommunications and Information Technology have supported the academy and how they praised its' objectives because the country needs to have such superior project.
Miss. Casanova has praised the academy's achievements and the completion of what is needed until the moment as well as the clarity of the coming objectives in the next period.
From his side, Dr. Nidal Jayoussi stressed the importance of what the academy has done, and praised the cooperation between the academy and Tempus National office.
From her side, Miss. Eva clarified all the inquiries and the significant points to insure that the academy activities stay aligned with the rules and the project interests.