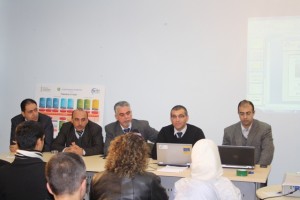 Birzeit – The Palestinian E-Government Academy (A Project led by SINA institute – Birzeit University, in cooperation with many Palestinian and European Universities and Ministries, funded by TEMPUS) kicked off its professional and very advanced training program for building and fulfilling the needs of the national plans of Palestine to implement IT based solutions for E-Government. The program consists of six courses; i.e. 300 training hours.
The program is directed towards building abilities and improving skills in three main aspects: Interoperability, Security, and legal information, which are the main challenges faced when implementing e-services in general and e-Government in particular. The training program is made of six courses; equivalent to 300 professional and very advanced training hours. The training material was developed in the past year by qualified Palestinian Academics and Professionals, in cooperation with European Scientists with a prestigious international reputation to suit the Palestinian needs. These six courses are: (1) Data and Business Process Modeling, (2) Data Integration & Open Information Systems, (3) Process Integration & Service Oriented Architectures, (4) Ontology Engineering and Lexical Semantics, (5) Information Security, and (6) Legal Informatics and IT laws. The first stage of the program will include (25) trainers from the governmental sector for four months, while the second stage, which will be launched soon, will target (25) trainers from the governmental sector along with local municipalities and companies.
It's worth mentioning that establishing the Palestinian E-Government Academy project is funded by TEMPUS, led by SINA Institute – Birzeit University (sina.birzeit.edu), in cooperation with three Palestinian Universities, three Palestinian Ministries in addition to five European Universities. The Project aims to enrich the Palestinian society with the know-how for implementing e-services, bridge the knowledge gap and present technical and legal consulting for empowering the society on how to implement and deploy integrated E-Government services, which is considered as a national priority, in addition to encouraging and leading researches in related fields.
Dr. Mustafa Jarrar – The director of SINA Institute, and the Project Manager of the E-government Academy – stated that despite of the fact that the Academy's initial focus is on the governmental employees, but local municipalities, companies and universities will get their share of attention in the second stage. He also added that one of the Academy's previous accomplishments was building the Palestinian Interoperability Framework – ZINNAR (zinnar.pna.ps), and that the academy has many channels of corporation and communication with international and regional parties to benefit from their knowledge and expertise in this field.