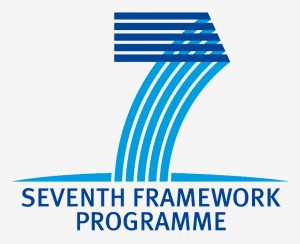 English | عربي
Sina Institute for Knowledge Engineering and Arabic Technologies at Birzeit University has recently won an EU-FP7 funded project, called MOSAIC, which aims to find areas of cooperation between the ICT industries in the Mediterranean and European countries, and prepare them to participate in EU funding programs, such as Horizon 2020.
The grant is being signed (contract negotiation phase) and the project is expected to start in 2014 January 1st.  It consists of thirteen partners from European and Arab countries and will span for two years. It proposes to create Technology Platforms (TPs) in two regions of the Mediterranean: MED-TP1 covering Maghreb countries (Algeria, Morocco, Tunisia, Libya) and MED-TP2 covering Mashriq countries (Palestine, Jordan, Lebanon, Syria, Egypt). For each platform, there will be 3 Working Groups focusing on Horizon 2020 domains: ICT and ICT applications to Food and Energy challenges. MOSAIC plans the dialogue between MED-TPs and existing European Technology Platforms (ETPs) for those topics, to:
(1) analyze potential areas of cooperation between Europe and MED countries around these thematic areas.
(2) Identify key stakeholders to launch and run technology platforms in MED countries including representatives from industrial (large companies and SMEs) and academic sectors.
(3) Promote and support the creation of technology platforms in MED countries, including the production of both organizational documents (governance, structure, etc.) and technical documents (Vision, Strategic Research Agenda), as tools to set up sustainable scientific cooperation with Europe.
(4) Create a Global Strategy for EU-MED cooperation in the field of ICT and ICT applications for food and energy.
(5) Liaise of technology platforms with European counterparts, and contribute to update the European International Cooperation strategy.
(6) Increase awareness on the potentialities for cooperation between Europe and MED countries in the fields of ICT and ICT applications for food and energy.
Dr Mustafa Jarrar, the director of Sina Institute, highlighted that MOSAIC is the first project in the institute that explicitly aims to engage the Palestinian ICT industry with academia; not only for creating new business opportunities and network with EU companies, but also for preparing the ICT industry to participate in EU programs specially Horizon 2020, which is an important opportunity that they have been missing since many years. He highlighted that any small or large company in Palestine have the full right to participate and benefit from such programs as universities do.
Dr. Ali Jaber, the dean of the IT faculty, added that it's the faculty mission to support and build a concert partnership industry, hoping that this project will be another addition to our Palestinian ICT industry. The faculty and it's research arm, Sina Institute, will continue serving the Palestinian society by attracting international projects that provide the best opportunities for students as well as private and public sectors.
It is worth mentioning that although Sina Institute is newly established, it is the largest research center in ICT in Palestine and among a few centers in the region specialized in Arabic and knowledge management technologies. The institute has been awarded a grant from Google Int. for its research excellence in Arabic search engines and tools. It is also the coordinator and grant holder of several projects, such as the EU-FP7 SIERA project (for developing multilingual and multicultural knowledge sharing technologies), The Arabic Ontology project (for building an ontology for the Arabic Language), The EU-TEMPUS PalGov project (for capacity building in e-governance and establishing the Palestinian e-Government Academy), among several other projects.
| | |
| --- | --- |
| Project Number | 612076 |
| Project Title | Cooperation with Mediterranean partners to build opportunities around ICT and societal and industrial challenges of Horizon 2020. |
| | |
| Project Acronym | MOSAIC |
| Project Duration | 24 months. |
In the media: