English | عربي
Dr. Katrin Nyman-Metcalf, the  chair of Law and Technology Department at the Law Faculty in Tallinn University of Technology in Estonia, and the consultant at the Estonian e-Governance Academy, visited Sina Institute and Faculty of Law at Birzeit University  to discuss joint cooperation opportunities.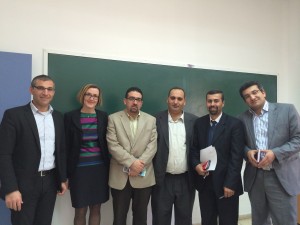 Dr. Metcalf first met Dr. Khalil Hindi the president of Birzeit University, Dr. Asem Khalil the dean of Law and Public Administration faculty, and Dr. Mustafa Jarrar the director of Sina Institute for Knowledge Management and Arabic Technologies. Two other meetings were then scheduled with members at the Faculty of Law and Faculty of IT to discuss possible joint research and capacity building projects with Birzeit University. In addition to discussing several topics of interest in the field of IT laws frameworks, including the issues of privacy, human factor in data protection, cyber security, digital transactions, and legal and ethical courses, among other topics. Dr Metcalf also reflected on the Estonian e-government experience, and discussed several matching points between the Estonian and the Palestinian e-governance experiences.
It is worth mentioning that Sina Institute was the coordinator of several projects aiming to build the Palestinian e-government services. Such projects include Zinnar, building the Palestinian e-government interoperability framework, and the Palestinian e-Government Academy, providing capacity building and training services in the domain of e-government.
In the media: