English | عربي
The director of language services and Arabic localization at Google, Dr. Fayeq Owies, visited Birzeit University to give a lecture on the Arabic digital content, and discuss possible joint cooperation with Sina Institute for Knowledge Engineering and Arabic Technologies. The visit has been organized by Google ambassadors club at Birzeit University, in collaboration with Najjad Zeenni Center.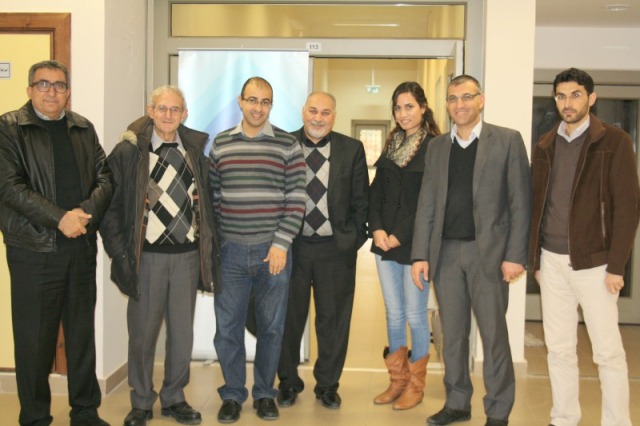 Dr. Owies's Lecture, entitled: "BelArabi Ahla", is part of the activities of the "Arabic Internet Days" campaign, intended to strengthen the cooperation between Google and the Media department at the United Nations; aiming to promote the Arabic content on the Internet. Dr. Owies focused on the importance of enriching the Arabic digital content, to bridge the wide gap between the number of Arabic speakers worldwide in contrast to the percentage of the Arabic content online at 3% only. Dr. Owies also pointed out Google's activities to enrich the Arabic digital content, by building partnerships with universities to establish Arabic content, and civil and governmental institutions to digitize the content, in addition to translating the existing content into Arabic. Moreover, Dr. Owies illustrated that Google provides training, support and programs for all these institutions and telecommunication companies to create and manage Arabic Content; which helps to keep up with the innovation on the Arabic technologies level. The importance of such activities stems out of the fact that the Arabic language occupies the seventh position among the most widely used and fastest spreading languages on the Internet.
In his visit to Sina Institute, Dr. Owies met Dr. Henry Giacaman the vice president for academic affairs, Dr. Ali Jaber the dean of the Information Technology faculty, Dr. Basem Sirefi the director of the Computer Science department and the Masters in Computing programs, and Dr. Mustafa Jarrar the director of Sina Institute. The visit was scheduled in order to discuss the possible ways of joint cooperation between Google and Sina Institute at Birzeit University, including the memorizing/preserving of the Palestinian heritage, extraction and annotation of named entities in Arabic texts, and the involvement of the university students in the imaging and labeling processes of Google Street maps, among other technical and cultural subjects.
Dr. Fayeq Oweis is a Palestinian from the town of Der Debwan, north of Ramallah. He is the director of the languages services and Arabic localization department at Google, where he works to support and develop the Arabic versions of Google's products, including Gmail, YouTube, and the social network Google+, as the Arabic version of Google+ was issued as the same time with the English version. Before joining Google, Dr. Owies worked as a consultant in the Arabic localization field for many of the Internet companies at the Silicon valley in California. Dr. Oweis holds a PhD in Arabic and Islamic studies, and he worked as a teacher of the Arabic language and culture at the University of Santa Clara in California.
In the media: