English | عربي
Sina Institute for Knowledge Engineering  and Arabic Technologies organized a workshop on proposal writing skills and the new European research funding program, Horizon 2020, on Wednesday April 2nd. The workshop was presented by highly experienced professionals in managing EU funded projects; Mr. Ruben Riestra from Spain, the evaluator and consultant for many EU funded projects, and Prof Paolo Bouquet, from the University of Trento Italy.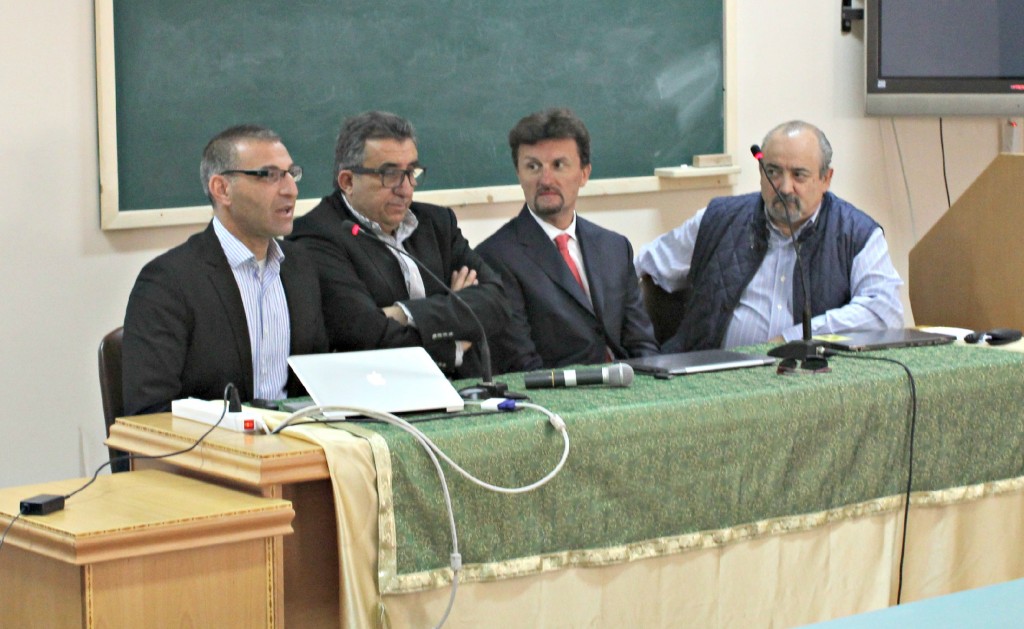 Dr Ali Jaber, the dean of Information Technology (IT) faculty at Birzeit University, first gave a brief speech about the research projects at the IT faculty, explaining that Birzeit University has a long and rich experience with EU funded projects. Dr Mustafa Jarrar, the director of Sina Institute and associate professor at the IT faculty, then presented Sina Institute and the current and previous EU funded projects that Sina Institute has been part of, both as a coordinator and partner. Dr Mustafa also discussed Sina Institute's preparations for Horizon 2020, and the main research interests for Sina Institute at the upcoming program.
Prof Paolo Bouquet then presented the Horizon 2020 program, explaining its various pillars and funding components. The presentation also discussed the main changes relative to the previous research funding program FP7, regarding research topics, administrative, and financial issues. Prof Bouquet concluded his presentation by explaining the shape and domains of the potential Palestinian participation in Horizon 2020, as part of the European Neighbourhood Policy (ENP).
The last session was dedicated to highlight the skills of writing a competitive project proposal, presented by Mr Ruben Riestra. Mr Riestra first discussed the competitive landscape of the EU funded projects, and the different factors that contribute to the success of the proposal and how to ameliorate them towards Horizon 2020. Mr Riestra also provided some explanations on the characteristics of a good proposal, and how to  better position your proposal to attain better evaluations.
Dr Mustafa Jarrar concluded the workshop by summarizing some of the key points discussed throughout the workshop, in addition to shedding the light on Sina's experience regarding some of the discussed points. The workshop has been attended by many interested staff members from Birzeit University, along with many participants from the local Palestinian institutes and universities, which allowed for vibrant discussions and remarks throughout the workshop. Another meeting was held later with Birzeit University's administration to discuss the university's strategy for EU funded research projects, in addition to discussing related administrational and financial issues.
Prof Bouquet and Mr Riestra finally concluded their trip on Thursday with a hands-on session with Sina Institute's staff, to discuss SIna Institute's strategy for Horizon 2020, among other relevant topics. 
In the media: