Sina Institute for Knowledge Engineering and Arabic Technologies at Birzeit University was invited for a workshop in Amman (15-16/9/2103) to find synergies between Sina's SIERA and Arabic Ontology projects and GIZ's Arabterm project that is hosted at the Bureau of Coordination of Arabization in Rebate (ALECSO-Arab League) and the German-Jordanian University.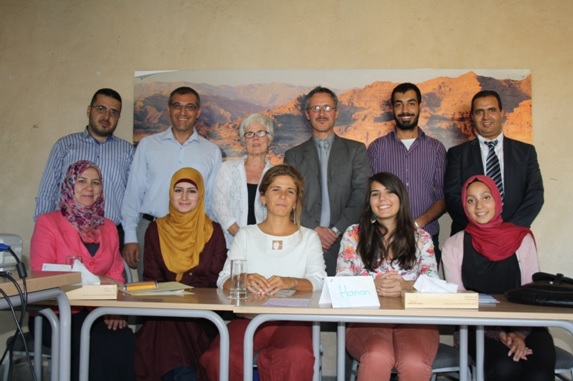 In the first day, the workshop was opened by Dr Gudrun Schmidt (from GJU, who is the organizer of this workshop). Dr. Guido Zebisch, the director of Arabterm at GIZ, then presented the project achievements so far and revealed the future plans of project. Mr. Driss Kasimi, the technical director of the Bureau of Coordination of Arabization  (ALECSO-Arab League) then presented and highlighted the methodologies used in Arabization of the new and foreign terms.
Dr. Mustafa Jarrar, the director of Sina Institute, presented a brief summary of the ongoing projects at the institute, mainly SIERA and Arabic Ontology, and proposed some ideas and methodologies about converting the Arabterm to an ontology – in order for the Arabicterm to be used in modern computer applications as well as control the quality of the term definitions. Dr. Caterina Caracciolo, from the Food and Agriculture Organization of the United Nations (FAO) gave a presentation about her team's efforts in developing (Vocbench), a multilingual web program for editing and managing glossaries in the content of the Semantic Web.
The second day of the workshop focused on agreeing on the possible cooperation between the mentioned parties especially the usage on the linguistic sources, methodologies and tools available at Sina Institute by the workers developing the Arabterm Technical Dictionary.
The workshop was attended by: Mustafa Jarrar, Mohammad ZeinEddin, and Hiba Olwan (Sina Institute); Guido Zebisch (GIZ); Iman Al Naser and Driss Kasimi (BCA); Dr. Caterina Caraggiolo (FAO); Gudrun Schmidt, Nicole Zarzar, Ibrahim Khair, Hanan Shukair, and Zain Abu Taleb (GJU).
It is worth mentioning also that a bilateral meeting was conducted between the director Sina Institute at Birzeit Univerity (Dr Mustafa Jarrar) with the Vice President (Dr Anton Mangstl) and the Knowledge Management Advisor (Dr Gudrun Schmidt) of the German-Jordanian University, to discuss the possible cooperation between both universities.