---
The National Cybersecurity Strategy: A Guide to Effective Security
ربيع بركات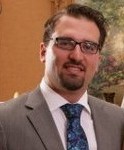 Rabi' Barakat
Rabi' Barakat is an information security specialist based in Palestine. Rabi' has over 10 years of experience in the field of information security and holds a number of high-level qualifications including a Masters Degree in Information Security, CISSP, GSEC, GCIH, GPEN, ISO27001-Lead Implementer and a number of security vendor certifications. Rabi' is the Founder and a Senior Security Architect at CYSTACK, a leading information security firm in Palestine. Providing a wide range of security services, solutions and training. Rabi' has provided consultancy and training to the government, Financial, Telecommunication and Private sector. Rabi' has extensive experience in many areas including;  Risk Assessments, Penetration Testing, Vulnerability Management, Incident Handling, Security Policy and Procedure development, Physical Security Reviews, Secure Networks, Security Baselines, Data Leakage Prevention, Public Key Infrastructure, Data Security (Encryption and Integrity Checking), Data & Asset Classification, Asset Management, Multi-Factor Authentication, Intrusion Prevention, Next Generation Firewalls, Wireless Intrusion Prevention Systems and Web Application Firewalls.  Rabi' has worked on the development of a number of information security courses and is a SANS mentor for the GSEC and GCIH courses.  Rabi' has a great time sharing his knowledge, experience and learning from the experience of others.
The Importance of a Cybersecurity Strategy:
Rabi's presentation provides direction on how to address Cybersecurity at a national level in a systematic manner. The presentation provides advice on how to formulate a Cybersecurity vision and mobilize the entire nation to mitigate threats across government and the private sector controlled critical information infrastructure – CIIP. The presentation provides a practical guidance to organizations trying to secure their part of cyberspace. The guidance focuses on the legal, technical, procedural and organizational structures required to create a national Cybersecurity program.